The CUEF distribution is credited to investors quarterly at the agreed rate for the University's Financial Year.
The agreed rates for the CUEF distribution are available from the Key Dates and Rates section, University Deposit Accounts Rate [1]page.
The income is credited to accounts holding CUEF units under the transaction code NAAA, by the fifth working day of the month end period, on a quarterly basis.
If you wish to transfer your CUEF distribution from one account to another use transaction code LXBB on both sides of the journal. NEVER use NAAA in the journal.
You can use either UFS or Cognos to view the total value of your distributions using one of the reports illustrated below.
In UFS
Transaction Code Balances – Excel (UFS)
 Budget Report – Comparing to Actual – Excel Version (UFS)
In Cognos       
UFS Transaction Code Balances - Excel report

Report Information Tab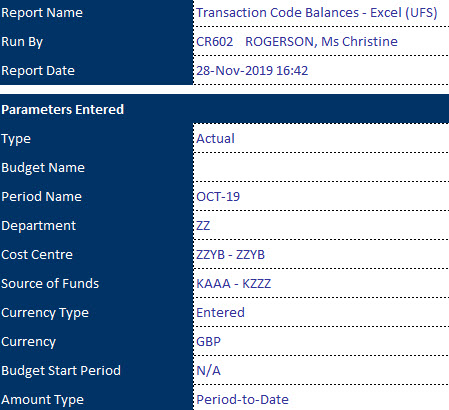 Cognos Budget to Actual report
CC ZZYB, SoF KAAA – KZZZ, Transaction Code NAAA

If you run a report which includes Transaction Code XHAA [Investment Revaluation Reserve], please note that this is an accounting book entry that adjusts the balance taken into the next financial year by the appropriate amount. Departments do not need to do anything about this.
Details of the  total return distribution policy under which distributions from the CUEF are made is available from the Statues and Ordinances [2] of the University of Cambridge