The Grants module interacts with the Purchasing, Accounts Payable and General Ledger modules, as well as receiving imports from the Inventory module and CHRIS payroll.
At year end there is a particular emphasis on ensuring exceptions, including funds check failures, are clear, items have been cleared from suspense grants, and research expenditure has been recorded against the correct grant. As part of the year-end certificate sign off process, Heads of Department are asked to sign off on the expenditure by project summary, covering all projects in their department.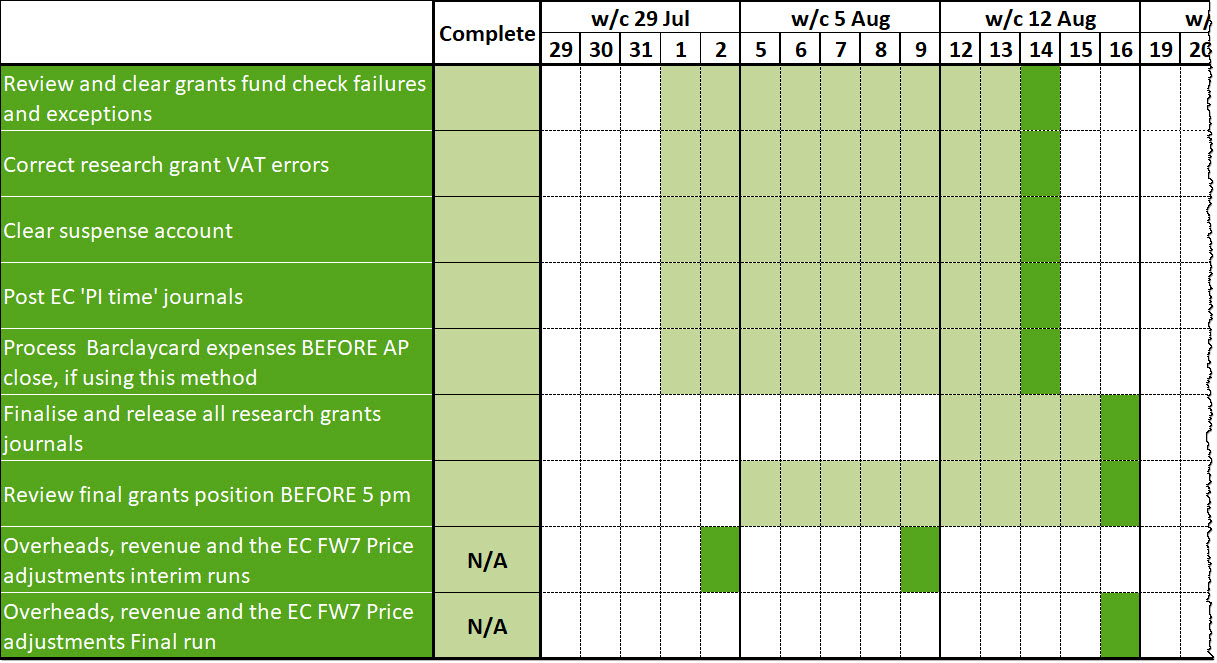 Click on the image for a larger version
In case of queries please contact the Grants Helpdesk
Tel. 64796 or email ufs_grants@admin.cam.ac.uk
---
Review and clear any funds check failures and exceptions. Where exceptions exist on awards, exception emails are sent to departments daily.
---
As advised by the Tax Team, raise grant journals to transfer any VAT errors from the AZZY (Transactions Pending Transfer) SoF to the relevant grant by 14 August. For further guidance see here.
---
Review and clear expenditure posted to suspense grants by 14 August. Any unresolved items in suspense grants which relate to July 2019 or earlier will be transferred to a department overhead GL account (source of fund: EDAA) on 16 August prior to final processing and closure of the grants module. Affected departments will be sent details of this journal.
---
These journals reflect timesheets, as per monthly processes, and should be posted by 14 August.
---
Process journals for monthly Barclaycard statements
See Barclaycard instructions in the Accounts Payable section. If using grants journals, these must be posted before the Grants module close on 16 August. Ensure expenditure date is 31 July 2019.
Balances not cleared before the GL close will roll forward to AZZY as part of the normal year end process.
---
Departments have two additional days following the closure of the Accounts Payable module to review their grants and post correcting grants journals as required.
Departments must ensure that all grants journals have been released in order to allow the Grants module processes to be run (e.g. costing and funds checking) before the module closes for the year end.
NB:         Departments are not required to raise accruals for un-posted July invoices relating to research grants.
Grants should be reviewed on an ongoing basis.
The overheads, revenue and EC FW7 Price adjustments will be run, as usual, on Fridays,
with the final run for the 2018/19 financial year being 16 August.