The General Ledger (GL) collates information from the rest of the system about all the transactions that have been processed. This information is then summarised into various departmental accounts. The information can then be utilised for both management and reporting purposes.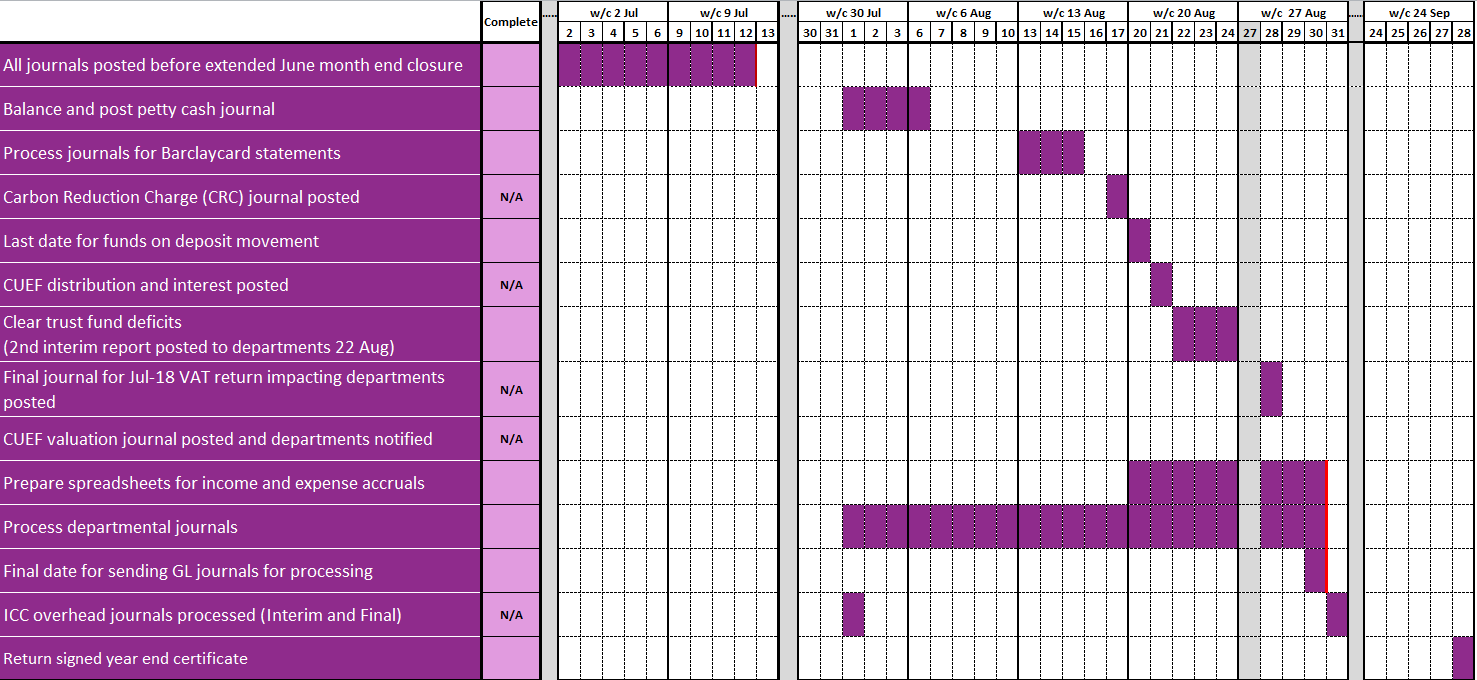 Click on the image for a larger version
In case of queries please contact the General Ledger Helpdesk
Tel. 39660 or email UFS_GL@admin.cam.ac.uk
---
There are no purchases / sales of CUEF units at 31 July. The last day for dealing for 2017/18 is 18 June. Contact Treasury if there are any queries.
---
The department's petty cash needs to be closed as at 31 July 2018. The GL journal (and Grants journal if necessary) must have a July 2018 date.
Petty cash expenditure for August 2018 must be journaled into August 2018.
The department's petty cash control account balance should reflect the amount of cash held.
NB. It may be that your first visit to the University Cashier after the year end includes two petty cash forms, one for each year. This is expected and acceptable. 
---
Monthly Barclaycard statements will be available to departments from 1 August.  Expenditure will be posted into July 2018 against the department's default account by the Shared Services Team.
All appropriate receipts and necessary authorisation of expenditure need to be collected and retained.
The department's default GL credit card account(s) should be cleared for the year end . 
NB: for 2017-18 this means both **AA.GAAA.FJAA and **AA.AZZY.FJAA. (where ** denotes department code).
Any GL journals must be posted to the July 2018 period.
---
Monday 20 August is the last date for placing eligible funds on deposit as at 31 July.
Departments are reminded that monies should be taken off deposit to reduce account deficits.
Deposit account and CUEF interest will be posted on Tuesday 21 August.
Details on eligible source of funds, how to place money on deposit and taking money off deposits are available in the Investments manual .
---
These are amounts owed by the department for goods and services that they have received prior to 31 July. Therefore, their costs need to be included in the 2017/18 financial year. This is done by the process of accruals.
Expenditure accruals occur where:
Goods/services have been received on or before 31 July but no invoice has been received and therefore not processed on UFS; or
Goods/services have been received on or before 31 July and the invoice has been received after AP module has closed and therefore the invoice will be processed in AP in 2018/19 financial year.
In case of queries please contact the General Ledger Helpdesk, details above.
Accruals must be raised for transactions over £10,000
Instructions
Departments have two ways to raise accruals:
Identify departmental accruals and allow Central and Research Accounting to process them.
Once the Central and Research Accounting team receive the details, they will process a GL journal. These journals will be automatically reversed in the August period of the financial year, OR
 
Departments can create their own accruals by GL journal
Further guidance on creating journals for accruals is detailed in Appendix A.
By using the Auto Reversal journal category these journals should be automatically reversed into the AUG-18 period. Ensure that you post/release the July journal.
If the journal category Accrual is used then you must remember to manually reverse it in the AUG-18 period using the More Actions button and to post/release both journals.
Sometimes journals need to be reversed in a period later than August. For example, if expenditure has been accrued in July but the invoice is not received until September then the JUL-18 journal should be Accrual type and should be manually reversed in September.
Where accruals for a single Department total over £200,000, you must send supporting details to Central and Research Accounting by Friday 24 August.
Detailed supporting working papers must be retained for all Departmental accruals for the purposes of audit inspection
​
---
Income should be deferred where it has been received by the department in advance of the goods or services being supplied (e.g. trading, course fees). If income received in advance is not deferred, it will be credited and shown in the incorrect financial year.
Like expenditure accruals above, departments can choose to defer income themselves (see Appendix B) or identify the deferral and ask Central and Research Accounting to process the journal.
Income received in advance must be deferred for transactions over £10,000
---
These are amounts owing to the department for services/goods provided but unbilled at the year end. They are the opposite of the accruals described previously. They will arise from goods or services provided to external customers but not yet invoiced on the AR module.
As described previously, departments can choose to accrue income themselves (see Appendix C) or identify the accrual and ask Central and Research Accounting to process the journal.
This course of action should only be used for material adjustments ≥ £10,000.
Detailed supporting working papers must be retained for audit inspection.
---
A prepayment occurs when a payment has been processed on UFS in advance of the goods or services being received. When this occurs over the year end, the proportion of the payment that relates to goods or services received in the new financial year (August 2018 and beyond) has to be calculated. The expenditure for 2017/18 is then reduced by this prepaid amount.
Departments can choose to set up prepayments themselves (see Appendix D) or identify the prepayment and ask Central and Research Accounting to process the journal.
Prepayments are only necessary for transactions > £10,000.
Detailed supporting working papers must be retained for audit inspection.
---
If the expenditure or income that is being accrued or deferred relates to a transaction with another department (e.g. internal trading) please check with the General Ledger helpdesk before posting the journal. The helpdesk will be able to check that the other department is making the equal and opposite accrual/deferral. This is important to ensure that the elimination of internal transactions is correct. .
---
Recording expenditure against the same source of funds as the related income is an important process for departments.
To achieve the transfer between sources of funds the net balance of each type of expenditure is moved /transferred by a GL journal, using the original expenditure transaction code for both the debit and credit entries of the journal.
Example:
Initially all your photocopying paper expenditure (transaction coe ESFZ) was coded against source of funds AAAA
However, the department used £100 worth of paper when it was running off posters for an exhibition.
The exhibition is a trading activity with income on source of funds GAAA
Therefore, a journal should be raised to match the paper costs with the ehibition as follows:
CREDIT        U. Dept. CC. AAAA. ESFZ          £100
DEBIT           U. Dept. CC. GAAA. ESFZ         £100
This procedure should NOT be used to correct miscoding and applies to movement of expenditure between sources of funds only.
If you require clarification please contact your Finance Adviser
Detailed supporting working papers must be retained for audit inspection.
---
Before clearing deficits, departmental accounts must be reviewed and adjustments made to:
correct miscoding
match the source of funds coding for related expenditure and income (as above)
account for accruals, prepayments, other debtors and income accruals (as above)
remove monies from deposit.
Deficits may then be off-set against surpluses on non-restricted and trading sources of funds by journaling expenditure using the transfer transaction code EZXX.
Care should be taken with this process and the transaction code EZXX must be used on both sides of the journal.Further information and guidance on their use is available from:
---
In accordance with University policy, year-end income and expenditure totals, by source of fund and cost centre, will be rolled forward to create the standard brought-forward balances for 2018/19 by the close of business on Wednesday 5 September. Any department with specific roll forward requests should submit these to their Finance Manager for input in UFS by no later than midday on Friday 7 September.
As part of the preparation of the final accounts, adjustments may be necessary. This means that the balances rolled forward may change. Any such adjustments will be communicated to departments.
Two adjustment periods have been set up on GL for this purpose ADJ1-18 and ADJ2-18.  
Under certain circumstances, postings into ADJ1-18 are allowed provided prior approval from the Finance Reporting section has been obtained. 
All year-end postings should be entered into Jul-18, and Jul-18 should be used for all year-end reporting.
---
Individual statements for all trust funds will be sent to departments as follows.
|  Date |  Statement |
| --- | --- |
|  Fri 13 Jul |  30 June statement |
|  Wed 8 Aug |  1st interim statement as at 31 July (will exclude Jul-18 distribution) |
|  Wed 22 Aug |  2nd interim statement as at 31 July (will include Jul-18 distribution) |
|  Wed 5 Sep |  Final statement as at 31 July |
Journals are to be processed centrally to transfer expenditure to trust funds relating to appropriations in aid and overhead charges. It is planned that all such journals will be included on the 1st interim statement.
Clear any trust funds deficits based on a review of 2nd interim statements by Friday 24 August.