The Accounts Payable (AP) module interrelates with the Accounts Receivable, Grants, Fixed Assets and General Ledger modules. It is essential that all supplier invoices and all expense claims, whether from employees, students or individuals, are processed in the correct accounting period.
| Tasks required | Final date for completion | |
| --- | --- | --- |
| Submit 2017/18 AP items to Shared Services by c.o.b. | Wed 8 Aug |   |
| Process all 2017/18 internal trading AP invoices | Mon 13 Aug |   |
| Run the Invoices on Hold and Invoice Register reports | Mon 13 Aug |   |
| Identify remaining internal trading invoices in dispute and notify Finance Division | Mon 13 Aug |   |
| Process all July AP invoices | Wed 15 Aug |   |
| Process all staff and visitors' expenses | Wed 15 Aug |   |
| AP Module closes at 5pm | Wed 15 Aug |   |
| Return supplier statement reconciliations to Finance Division | Fri 31 Aug |   |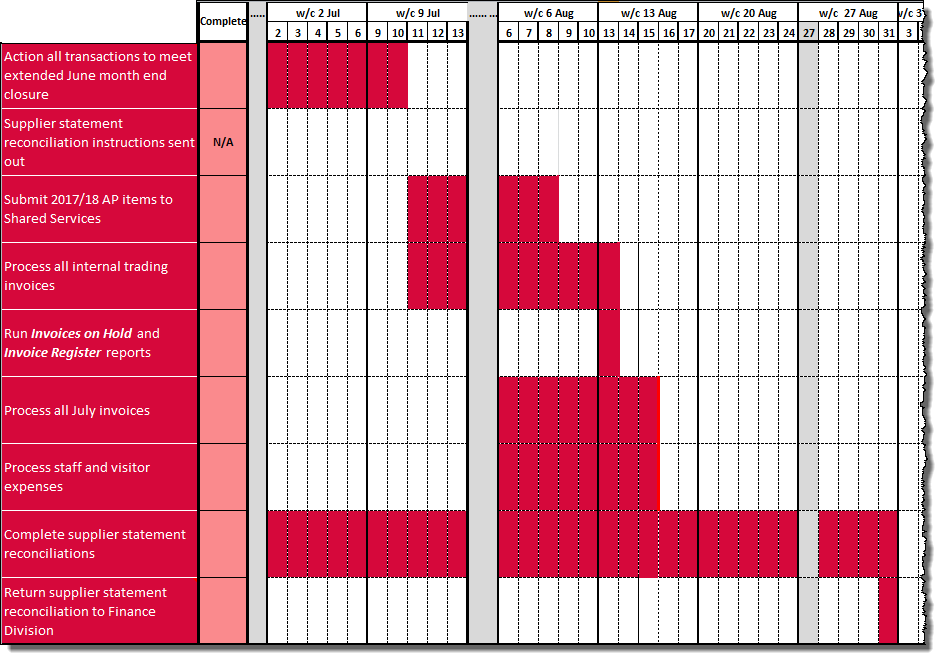 Click on the image for a larger version
In case of queries please contact the Accounts Payable Helpdesk,
Tel. 66888 or email UFS_AP@admin.cam.ac.uk
---
Please ensure that all supplier invoices received after 31 July are accounted for in the correct period.
From 9 August, the AP Team will be issuing daily reports listing:
August invoices posted in July; and
July or earlier invoices posted in August (if applicable).
This enables users to check these invoices have been accounted for in the correct period. In all cases please ensure that invoices are only processed in July if the goods were received in July. If you see an invoice processed in the wrong period please correct this before AP closes on 15 August.
Reports will be sent to the same users as the supplier reconciliation notifications. Please notify UFS_AP@admin.cam.ac.uk if this should be any different.
The Accounts Payable module will close at 5pm on Wednesday 15 August. Invoices relating to 2017/18 processed after this date should be accrued if material in value (see Accruals). This does not apply to invoices charged to grants.
---
Departments are reminded to ensure that both the Invoice Register and Invoices on Hold Report reports are reviewed and all holds/queries are dealt with accordingly.
Run and review the Invoice Register (UFS) report showing all invoices not yet primary approved (i.e. validated). Validate and Secondary Invoice Approve (SIA) or cancel as appropriate.
Review the Invoices on Hold Report (UFS). Remove the holds or receipt any delivered goods or services as appropriate.
NB Invoices on hold (other than those only awaiting secondary approval) at period end will NOT be accrued or charged in the General Ledger. The AP team will regularly distribute the AP Holds and Unaccounted Transaction Report (UFS) to departments
---
Review Internal AP invoices for 2017/18
To be processed by 13 August with a GL date of July 2018 or before.
For invoices in dispute: as these will be automatically validated, departments must place an internal dispute hold on the invoice.
All invoices in dispute which cannot be resolved should be referred to the AP Helpdesk by Monday 13 August for advice.
Any necessary accounting entries for disputed invoices will be agreed with both departments and posted by the Finance Division.
Disputes resolved by the Finance Division will be notified to departments by Wednesday 15 August.
---
Invoices processed after 31 July should be classified between:
July 2018 or earlier purchases (ie. ONLY goods/services received on or before 31 July should be recorded in July accounts. The purchase order date is irrelevant).
August 2018 purchases (for the new accounting year). For invoices dated July that relate to August purchases (eg. equipment rental payable in advance), the GL date should be changed from July to August.
Goods/services ordered in July or earlier but delivered/received in August are August purchases and must be recorded in August.
For invoices dated August that relate to July purchases (where the goods/ services were delivered/received prior to the end of July):
Ensure that the GL date on the invoice header screen and the invoice line screen is amended to 31 July 2018, prior to approval of the invoice.
Do NOT change the GL date shown against the VAT line.
For invoices dated August that relate to August purchases:
Retain the August GL default date.
NB: The AP module will continue to accept July and prior purchase invoices until 15 August. Thereafter, all invoices will have to be processed in the new accounting year 2018/19. Invoices relating to the 2017/18 year received after 15 August should be accrued as creditors.
---
The July statements will be available to print from 1 August and will be posted in to the July period. Each cardholder will have a statement but departments should be able to print / download into PDF all statements in one go.
---
Expenses need to be processed in the appropriate financial year. As expenses are paid in arrears, please ensure July (or earlier) expenses have a July 2018 GL date and an appropriate Expenditure Item Date if charged against a grant.
---
All supplier statements should be reviewed for invoices relating to 2017/18 to ensure they have been processed.
Statements from suppliers should be requested, retained and checked to AP invoices.
Records should be kept for audit purposes.
On Monday 9 July, Finance Division will issue a list to each department of their Top 20 suppliers, by value for the year. From this list, you are required to select ten suppliers (having considered both the value and number of transactions). The selected ten supplier statements need to be reconciled as at 31 July 2018:
The statements from suppliers should be requested and checked to AP invoices.
Records/statements should be retained for audit purposes.
The department's ten selected supplier reconciliations should be returned to the AP helpdesk, Finance Division by Friday 31 August.