The Fixed Assets module interrelates with both the Accounts Payable and General Ledger modules. At year end there is a particular focus on ensuring that the register is up to date and that assets have been physically verified. This is an area that the auditors have been paying close attention to in recent years.
| Tasks required | Final date for completion | |
| --- | --- | --- |
| Distribution of Fixed Asset Register as at 30 Jun | Thu 12 Jul | N/A |
| | Fri 10 Aug |   |
| Physically verify assets | Fri 10 Aug |   |
| Notify FA helpdesk of disposals/amendments | Fri 10 Aug |   |
| Ensure that July not tracked additions are included on register - refer FA exception spreadsheet | Wed 22 Aug |   |
| Module closes at 5pm | Fri 24 Aug |   |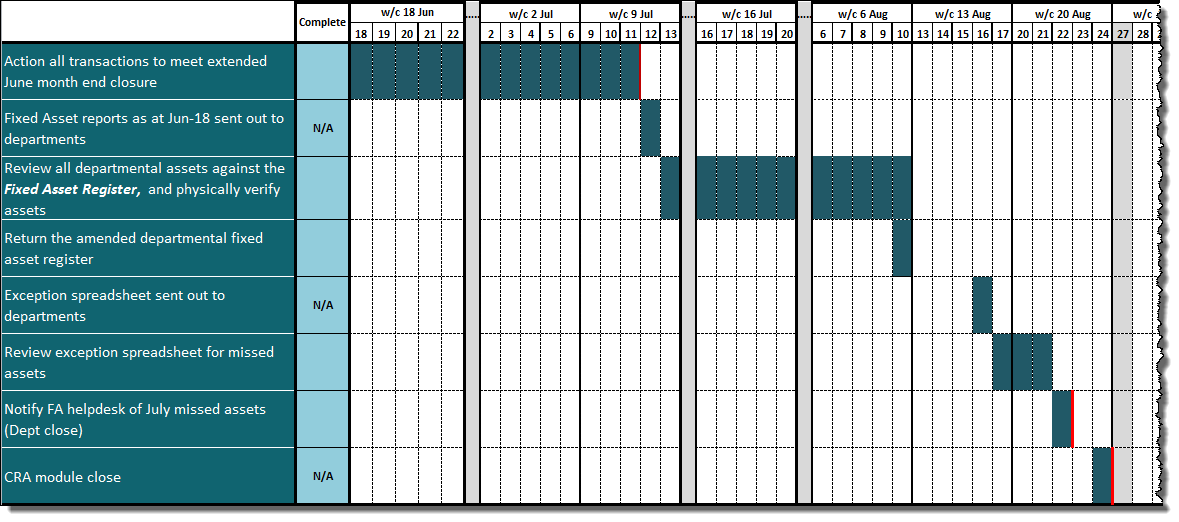 Click on the image for a larger version
In case of queries please contact the Fixed Asset Helpdesk
Tel. 66780 or email UFS_FA@admin.cam.ac.uk
---
The Fixed Asset Register will be sent out by Central and Research Accounting for the period up to the end of June once Fixed Assets for June is closed. Particular attention should be paid to:
Ensuring that all assets listed can be physically verified
Nil value assets – are these still in existence and in use?
Responsible employees – new starters /leavers?
Departmental locations– any relocations/ expansions?
Tag numbers – are they recorded and correct?
Asset additions and disposals during the 11 months to June
Appropriate individual asset descriptions – eg. not "as attached"
Confirmation of the fixed asset return should be sent to Central and Research Accounting by 10 August with any amendments detailed.
---
Departmental users are able to update the following details on the Fixed Asset module:
Asset descriptions
Tag numbers
Serial numbers, model numbers
Asset locations
Responsible employee
---
Review the exceptions spreadsheet sent out by Central and Research Accounting on 16 August for items purchased in July over £5,000, and ensure all asset purchases for July are reflected.
Notify the Fixed Asset helpdesk regarding any missed assets before 22 August.
---
The deadline for processing all amendments to the FA register by Central and Research Accounting is 24 August.